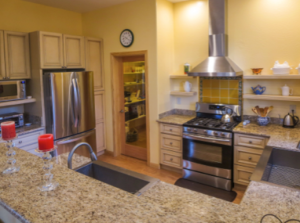 When it comes to ventilated hoods, there are a few different types available, and some fairly confusing terminology involved. Fortunately we're here to disentangle the jargon for you, and make sense of your options, to help you make the right choice when designing your new, affordable kitchen featuring our RTA kitchen cabinets.
Island Hoods
Island hoods do pretty much what it sounds like. They hang down from the ceiling from a broad outer chimney, so they protect your ceiling from the heat of cooking. They cover a cook top mounted on a kitchen island. They come in a variety of styles and sizes, ranging from retro "rectangular conic" designs, to hyper-modern sweeping and artistic contours, to simple but elegant utilitarian simplicity.
Wall Mount Hoods
A wall mounted hood is just like an island hood, except that they mount to a wall, so are a little less expensive, and a little easier to vent in some cases. If your kitchen design includes a traditional cook top mounted against a wall, and no cabinets overhead, this is the correct option for you.
Insert Liner Hoods
Okay, so far these have been pretty self-explanatory. Here's where it gets a little more complicated. Insert liner hoods have several different terminologies associated with them, like "hood liners," "hood inserts," and more. Here's the low-down:
Insert liner hoods are meant to be installed to look like part of the kitchen cabinets, i.e. completely invisible at a casual glance from a typical adult's perspective. They are ventilated hoods, with the chimney extending up through the over-range cabinets, to exhaust out of the wall or ceiling.
Breaking Down the Jargon
The "hood liner" is the metal sheath that protects the wooden decorative hood from heat, flame, and fumes. It's basically just like the sloped, "rectangular conic" hood design of a retro wall mount hood, serving to guide hot air and exhaust up and in toward the chimney in a smooth, gradual way that won't let the decorative wooden hood outside of it get too hot.
The "hood insert" is the mechanical guts of the range hood: the fan, filters, lights, and controls that make it actually work. Sometimes, they're sold separately, hence the need for the separate (if confusing) terminology. In our case, however, we only sell complete insert liner hoods that are designed to work well with our semi-custom RTA cabinets.
Would you like to get the inside scoop on buying cabinets online, including common dirty tricks and misconceptions? Get The Consumer's Guide to Buying Kitchen Cabinets—it's a free downloadable book that will help put your mind at ease.