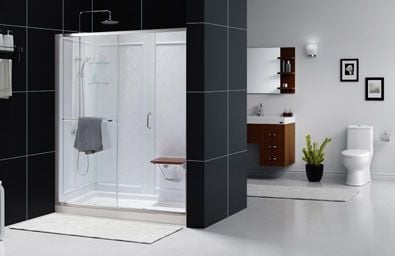 You know you aren't going to pay full price on everything. Why would you? The more you save, the more you can buy. There are some things you can get for cheap, and it won't make a difference in the long run. However, there are some things you definitely don't want to cut corners on. Which is which? Here are some tips on when to get the discounts and when to pay full price.
Cabinets: The Cornerstone of Discount
Definitely don't get cheap cabinets made of pressed wood if you want something to last, which will add resale value to your home. You can get high quality discount cabinets that are just as good as the expensive ones.  Ready-to-assemble cabinets use the same quality wood as fully-assembled cabinets; they are just shipped to you flat. As expected, you're the one who puts them together, and it's relatively easy. They look gorgeous under a bath vanity, and no one would be able to tell the difference.
Plumbing and Electrical
You never want to skimp on these important elements. It's highly advised that you hire a professional to install all piping and electrical wires. Electrical shorts can cause a fire, and even if you install it safely, you might install your bathroom cabinets over it and realize too late that it doesn't connect right. Poor plumbing installation can be an absolute mess with leaking sewage, and moisture will create black mold behind the walls of your shower and bath vanity, which is hazardous to your health.
Splurge on Design Details
You can use economy porcelain on your bath vanity countertops instead of pricey choices like uba tuba granite. Pay for pretty in less surface area by investing in your backsplash rather than your countertop. You can get beautifully detailed tiles that add a fun atmosphere to your bathroom for much less.
Use Fewer Fixtures in Your Design
While it's often popular to have two bathroom sinks, or both a shower and a bathtub in the same room, you may want to cut it down to one sink and a shower. This means fewer plumbing connections, and more money to spend on the aesthetics of your space. Maybe you can afford that uba tuba granite after all!
Get a beautiful bathroom for a fraction of the cost when you use ready-to-assemble cabinets. Visit our website for a full catalog.