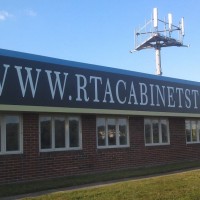 When you purchased a tiny house, you did it for several reasons. It was cheaper than buying a large home and you don't have a lot of empty space you're not using. It's more environmentally friendly and is just the right amount of space for your needs. Choosing RTA cabinets for your tiny house kitchen fits in perfectly with these ideals. Your tiny house may be small, but it's your home. It's the place you'll spend your days cooking and serving delicious meals. Make sure you have the perfect layout by using RTA cabinets.
Less Money Than Preassembled Cabinets
One of the big reasons RTA cabinets are perfect for tiny houses is they are the most cost efficient. Tiny houses are less expensive than regular houses and that was probably a major factor in your decision to purchase one. RTA cabinets are shipped to you in small boxes ready to be assembled. You don't have to pay for them to be assembled at the factory, or all the shipping and handling costs associated with such large packages. These kitchen cabinets were designed for the do-it-yourselfer and with a little time and elbow grease, they'll be installed and ready for use. No sense spending money when you don't have to. You made a decision to live frugally, so make sure you choose inexpensive, but reliable cabinets.
Customization
Kitchen cabinets in a tiny house have to be jacks-of-all-trades. They need to provide standard storage, but also fill in other jobs because there just isn't enough counter space for everything. The ability to customize the cabinets to your needs is an important part of why RTA cabinets are the preferred choice for tiny homes. There are numerous accessories including drawer organizers, racks and shelving that can provide more versatility to the cabinets. Your tiny home is designed for customizability such as a living room that converts to a bedroom. Don't sacrifice the versatility that you love by purchasing inflexible cabinets.
Cozy Just Like Your Tiny House
There are so many styles and colors of kitchen cabinet to choose from that you're guaranteed to find the one that fits your style perfectly. It's important that your tiny house feel like a home. The wrong type of cabinet can create disharmony because it's such a focal point of the house. There's no reason why you can't have the dream tiny house you always wanted. RTA cabinets provide you with the variety to create an interior design that speaks to you. Don't let disharmony ruin your tiny house experience; choose RTA cabinets.
Our customer reviews prove that RTACabinetStore.com is a leader in cabinets and customer service. If you're interested in getting new cabinets for your tiny home, then explore our website and see what we have to offer.