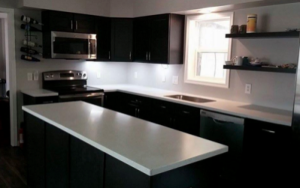 When it comes time to give your kitchen a makeover, budget is always a major concern. Here are three ideas that will help you give your kitchen a stunning new look without spending alarming amounts of money.
1: Update Hardware, Consider Painting
If your existing cabinets are in good shape, you might be surprised just how much of a difference swapping out old, stale, outdated hardware with a more modern or antiqued look can make. It's not just looks either! By switching to soft-close hinges and drawer slides, you can make your kitchen a joy to use as well as to look at and be in.
Bonus Idea
If a painted look is something you're considering, painting cabinets is a project most DIY homeowners can tackle themselves. There's no better time to paint than when you're taking off all the old hardware anyway, so consider combining these two projects for a whole new look for a tiny fraction of the price of replacing your cabinets altogether.
2: Creative Storage Solutions Revolutionize a Kitchen's Feel
There are fabulous storage options that can totally revolutionize your kitchen's feel and utility for a very modest investment. Check out our Rev-a-Shelf accessories for some ideas! From built-in spice racks, to sliding hide-away storage for pots and pans, new storage solutions can help you get rid of clutter by making the most of storage space that's otherwise difficult or inconvenient to use.
Bonus Idea
If you're redoing your wall surfacing, either by painting or wallpapering, you can go a step further with almost zero cost by removing some of your upper cabinets entirely and replacing them with open-air shelving. This can make a kitchen seem brighter and more spacious while providing a homey, "country kitchen" feel.
3: Personalize with Décor and Details
If replacing your kitchen cabinets is definitely in the cards, it can be tempting to go with an expensive, high-end design with a lot of personality and complex contours and woodworking. The thing is, for longevity of style, simpler is often better—and cheaper!
Consider going with a less-expensive cabinet option with a simpler, cleaner look in a neutral white or light gray paint, or light-toned wood. These lighter colors open up the space and help draw the eye to other elements. Then you can personalize your kitchen with details like a striking backsplash that'll be easy for a new homeowner to change if you end up having to move, and with themed décor you can simply take with you.
Bonus Idea
You can create a striking visual style by adding hidden lighting such as flexible rope lights lining the tops of upper cabinets to add indirect lighting to the edges of the room. This can open up the space, and opens up those otherwise unused areas for additional décor, which will now have its own dedicated lighting.