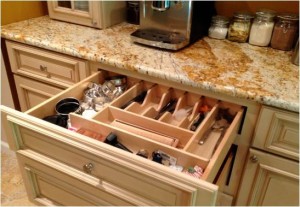 Tiny House Nation is a phenomenon which is sweeping the U.S.  In many places, the idea of having a huge home or massive apartment is being replaced by having intelligent, cost-effective living spaces that are completely space efficient and superbly designed.  Tiny House Nation has taken the idea to the next level, and they try to think of everything when designing one of their Tiny Houses.  A small detail to the normal person, having soft close drawers is an essential part of their planning.
Drawer Close Differences
There are basically three types of drawer close hardware.  Normal, heavy duty and soft close.  When purchasing, for example, RTA cabinets, the cabinets come with everything you need to have a fully functioning cabinet when put together.  Normally, though, they come with normal drawer close hardware.  This is fine, as in the average kitchen there is a lot of space and sound isn't that much of an issue.  Most places don't need heavy-duty drawer close hardware either, as they are not carrying extreme loads in the drawers.  Here at RTA Cabinet store, we offer all types of closers for whatever situation you find yourself in.  In a tiny house, though, having soft close drawers is nearly essential.
The Tiny House Benefit
The benefits of soft close drawers in a tiny house are strong, and they are also benefits you will see in a larger home, though they may not matter as much.  In a tiny house, with a smaller kitchen, every bit of usable space is needed, and it needs to be organized well.  In a normal kitchen with lots of space, the cabinets tend to be larger and wider, and allow the drawers to have more stuff inside them, with spacing between objects for organization.  Not so in the tighter confines of the small kitchen.  Each bit of space is utilized, especially that within the drawers and cabinets.
Using soft close hardware assures that when you close the drawer, it will slide into place with a sigh, no matter if you close it hard or push it closed without force.  This will keep the items inside from sliding around, and keep the organization exactly how you want it.  Also, in a tiny home, unless you live by yourself, sound pollution is an issue.  The loud bang, oftentimes unintentional, of a drawer slamming shut can seriously startle your housemate, wake them up, or just ruin the calm and quiet atmosphere of your home.