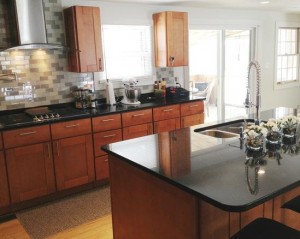 Even if someone knows next to nothing about kitchen cabinets, chances are they have heard of the Shaker cabinet style.  They are so ubiquitous that you would be hard pressed to find even a single street of houses in all the Unites States without at least one house with this classic style installed.  But why?
Shaker Cabinets Sooth the Mind
The Shaker cabinet style is one of the oldest cabinet styles.  It is not only fairly easy to construct; it is easy on the eye.  This is because the human brain loves to find symmetry in shapes and geometrical patterns.  It tends to sooth the mind.  Shaker cabinets are a perfect example of this, as the inset panels in them are normally an exact smaller ratio sized rectangle of the door or drawer that they are set into.  This leads to a series of geometrical patterns that make your mind go "Ahhhh."  Check out how nice they look, here: https://www.rtacabinetstore.com/RTA-Kitchen-Cabinets/.
Shaker Cabinets Last
One of the most durable cabinet styles over the years has been the Shaker cabinet.  While we here at RTA Cabinet Store know that all of the RTA kitchen cabinets we sell are stable and built to last, history shows that Shaker cabinets have fewer edges to clean or catch thing on, and have doors and drawers that can easily be duplicated.  Before the advent of quality RTA kitchen cabinets, this was a great boon for people who needed to get replacement parts.
A Clean Look
Shaker cabinets get away from some of more complicated looks and styles with their clean lines.  While they lack overt ornamentation, the understated nature of the inlays into the doors and drawers is easy on the eye, as well as giving the impression of more space.  So cabinets that sooth the mind, are easy on the eye, give the impression of spaciousness and cleanliness?  I think we have our answer.  They are really a great choice for any kitchen.
It's easy to decide which style of cabinet you like best, Shaker or no, but not so easy to design a whole kitchen based on that design. RTA Cabinet Store has expertly trained designers on staff and ready to help! Sign up now to get your free, no obligation design consultation at https://www.rtacabinetstore.com/free-kitchen-design-help.