Shaker cabinets are a classic that will never go out of style. They adapt well to just about any design style and are versatile enough to support all kinds of decor.
That means the way you style shaker cabinets makes all the difference. The details dictate the overall feel of the design. Take a closer look at these shaker cabinet kitchen designs and transform your kitchen into the space of your dreams.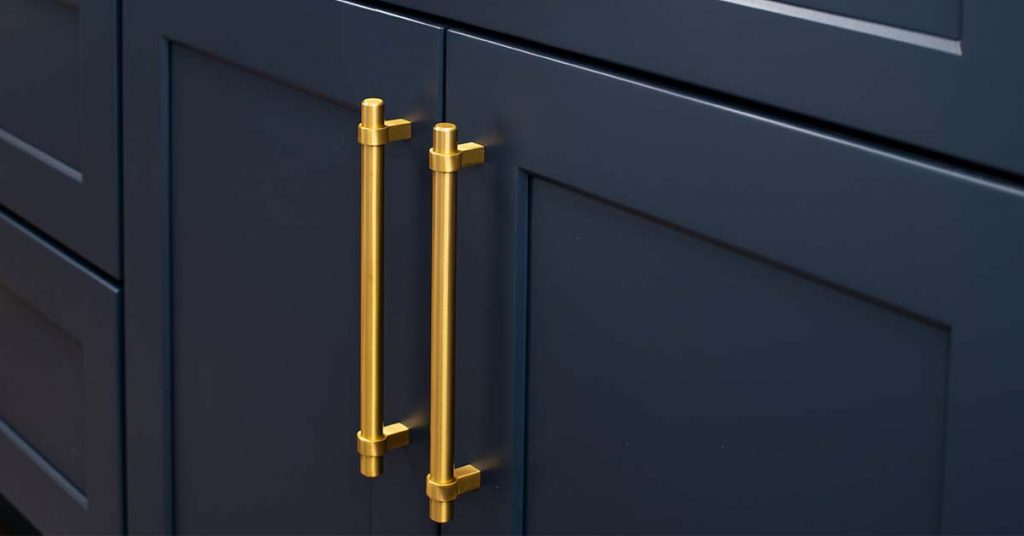 Hardware Sets the Tone
With shaker cabinets being so versatile, the knobs and pulls can become the statement maker in the kitchen design. Just keep in mind that shaker cabinets are a simple design and it can be easy to over do it. Stick to understated hardware and you'll keep your design in balance.
Gold tones are trending right now, and though distinctive, it suits the simplicity of the shaker style well. If you're looking for something a bit more traditional, go with wooden knobs. If you like rustic or enjoy vintage details, pick any metal that will gain a patina over time.
Shaker cabinets can also lean toward modern styling when they are painted white and White Shaker cabinets with no hardware lean toward modern styling. A hygge style is another style that doesn't always use hardware. The linear details of the Shaker style are enough for a minimalist design.
A Foundation of Flooring
The simplicity of white shaker cabinets invites nearly any type of flooring. Most popular is wood flooring. Dark, light and everything in between works well.
The warmth of wood complements the cool cabinets, which sets the stage for multiple style options. From there you can go minimalist, farmhouse, contemporary, vintage, and more.
White shaker cabinets are also an excellent match for stone (or stone-look) tiles. Terra cotta tiles or even brick can also be good choices for more rustic or European styles. Add a patterned rug to the wood floor to add interest and draw the eye.
What about when you go with a hardwood shaker cabinet? What should you do about flooring then? You still can't go wrong with wood flooring.
Simply pick something that works with your cabinets. Or try something with less texture and variation than wood like an understated stone tile or ceramic tile with monochrome color.
Backdrop It with the Right Backsplash
One of the best characteristics of Shaker cabinets is that they don't compete with patterns. Their simplicity works with marble slab as readily as it does with a busy mosaic.
Select a backsplash that complements the color of the Shaker cabinets. Subway tiles or classic mosaics are popular choices that work well with Shaker cabinetry. You could also go with something more eye-catching like herringbone, chevron, or Victorian tin tile.
Countertop Contrast
Just like the backsplash, the simplicity of the cabinets allows you to do something special with the countertops.
Choose countertops that provide contrast to the Shaker cabinets. For example, if you have white Shaker cabinets, consider darker countertops like granite or quartz to create an eye-catching contrast. This combination can add depth and visual appeal to your kitchen.
Consider taking it a step further and select a different countertop for the island. This will add even more spunk to the space and an overall design that is one of a kind.
Two-Tone Cabinets
Choosing two different colors in the same Shaker style changes up your design and adds a splash of sophistication.
For example, you can have a light color for the upper cabinets and a darker shade for the lower cabinets. Or go for one color on the perimeter cabinets and another on the island. This adds depth and dimension to your kitchen design.
Natural wood Shaker cabinets make an excellent pairing for white, navy, or greige. White is an obvious choice that goes with other color. Even something understated like light beige or dove gray can be enough of a contrast to set apart your design.
Top It Off with Décor
If your kitchen is like most, you have space between the top of the cabinets and the ceiling. Instead of leaving that space empty, use it for decor. Styling shaker cabinets with some decor seals the deal on your design.
It's the perfect space for a tasteful collection or a vignette or two. Vignettes are curated items that come together to create a little story or experience. It might consist of a plant, picture, word art, and ceramic item. Vintage books are also popular to add to vignettes (if that matches your style).
Word art is wildly popular. Every style can include word art, but it's a cornerstone of decor in a transitional or farmhouse style. Don't forget to add some decor for holidays. That can be a fun way to change up the look of your decor regularly.
Display your serving ware on the top of the cabinets to double up on functionality and decor. Likewise, your tablescape items like candle holders, cake plates, etc. are excellent decor.
No décor is complete without the right lighting. Boost ambiance with some under cabinet lighting. Adding lighting to the top of the cabinets also increases the mood.
As you can see, even little things make a big difference. Style your shaker cabinets for a kitchen design that stands out.
Need more shaker cabinet inspiration? Check out these ideas.