Don't Forget These 6 Things Before You Pull the Trigger on Your Cabinets
Picking cabinets is about more than style and color. Have you thought about material? How about construction? Not to mention functional considerations like how your stuff will fit in those cabinets and how you'll use them.
There are some definite perks you should consider making a part of your kitchen cabinets that go far beyond what they look like. Here are six things to think about before you make your final decision.
Soft Close Hinges
If you haven't encountered these wonders in a model kitchen yet, go find one immediately. Soft close hinges close doors and drawers for you and they do it without slamming.
Soft close hinges have a hydraulic mechanism that kicks on when the door is nearly closed. It absorbs extra force or generates more depending on how much was applied by the person closing the door. No matter how much or little force was applied, the door always closes gently and effortlessly.
Soft close hinges are easy on every component of your cabinets, making them last longer. They also make your cabinets a breeze to use. They are a perk you definitely want in your kitchen. Some models come with soft close hinges and others need to be specifically ordered.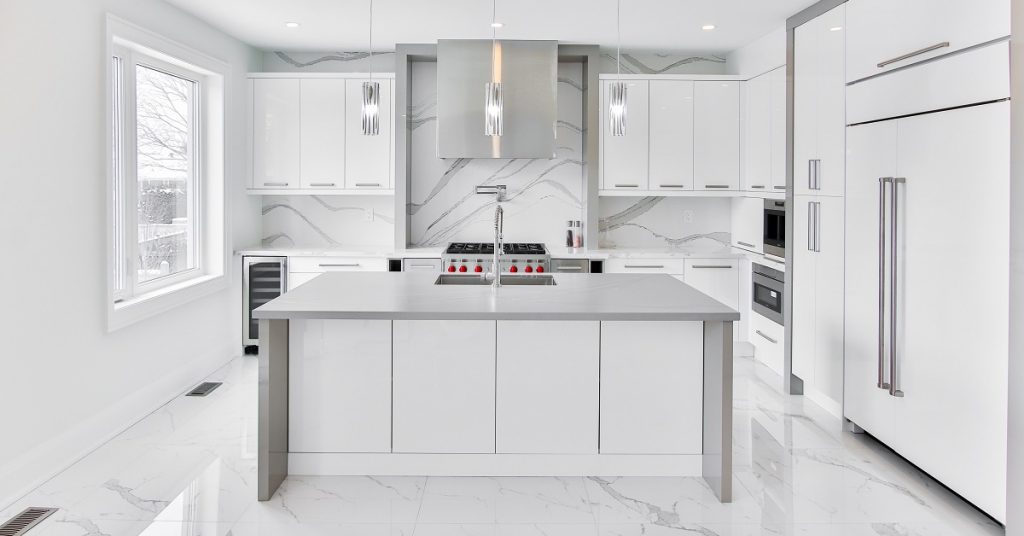 Upswing Hinges
Upswing hinges are used on cabinets that open up (vertical swing) instead of to the side. Once you open the cabinet door, it stays open until you close it. The upswing open cabinets are standard in modern and Scandinavian design kitchens.
Vertical swing cabinet hinges are also soft close hinges, which is necessary since gravity helps you close the doors.
Upswing doors are a great way to maximize your space. They lift up and out of the way so you can work unobstructed and get the most out of your kitchen.
Organizers
Unfortunately, there can be a lot of wasted space in your cabinets. Shelves help some, but organizers are your best bet to utilize all the space in your cabinets.
Glideware cabinet organizers are attached to the top or bottom of the interior of your cabinet. They pull out like a drawer for easy access. They come with hooks (for the top mounted version) or sliding trays (for the bottom mounted version). You can pots and pans or place waste containers on trays for easy access.
Drawer/cabinet inserts come in two varieties: roll out trays and organizer inserts. Roll out trays are generally added to cabinets in place of shelves. They allow for easier access to things in the back. Organizer inserts help you get a handle on keeping cutlery, serving utensils, jars of spices, knives, and all the other odds and ends in the drawer into their rightful places where you can find them easily.
Range Hoods
When you plan for cabinets, you should also be planning for your range hood. It directly impacts your cabinets and their installation. In fact, the range hood should be a consideration from the start when you decide upon your kitchen layout.
Hoods can be installed on a wall, over an island, even under the cabinet. You can select hoods with multiple speeds, different chimneys, remote control, and extra quiet motors.
Trims & Moldings
With ready-to-assemble cabinets, it can be easy to overlook the trims and moldings you'll need to complete your project. You'll need to make sure you have end panels and kickplates. Additionally if you decide to install glass fronts, those will have to be ordered separately.
If you want crown molding on top of your cabinets now's the time to think about that too. It's the little finishes that make the biggest difference.
Professional Designer
You cannot beat the refinement a professional designer brings to a project. Start out on the right foot with a pro designer helping you with everything from the layout to the details. Or if you find yourself overwhelmed in the middle of your project, it could be time to ask for some expert advice.
At RTA Cabinet Store, we offer free design help. You get a free, no obligation, professional kitchen design consultation from designers who are already familiar with our products. Your free design includes a custom layout blueprint and 3D renderings so you can visualize your space. They'll also provide you with an itemized quote so you won't miss anything.
Don't move forward with your kitchen project until you've thought through all the details. You'll have everything you need from the start and maximize your kitchen storage space. Don't forget to get a free consultation with our design professionals.
What else should you be thinking about before you start your project?