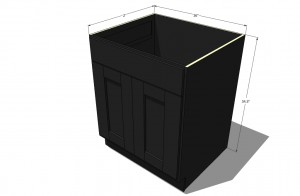 Bathroom remodels are one of the top renovations that produce the most return on investment. These rooms tend to be the most costly to redo, but they are the ones that will pay for themselves once you plan to resell. This is because bath vanity cabinetry, counters, tubs, and sinks are what need to be updated most often to stay current. Finally, you can replace those outdated oak bathroom cabinets with sleek new cabinets and give your bathroom that wow factor.
The endeavor isn't as costly as you may think. Bath vanity cabinets traditionally come fully assembled or are custom-made by a contractor. However, there is an alternative to costly bathroom vanity cabinets that won't force you to sacrifice quality. Another option for revamping a bathroom is to use ready-to-assemble (RTA) bathroom cabinets.
What Are RTA Cabinets?
Ready-to-assemble cabinets are discount cabinets that come shipped in pieces. When you receive your shipment, you're the one who puts the cabinets together instead of the supplier. RTA cabinets are a bit of work to put together, but they look just as nice as fully-assembled cabinets. RTA cabinets are often made of the same quality wood, so you don't have to settle for pressed wood to save money.
Where to Get Them
There are online catalogs that include RTA bath vanity cabinets that you can browse through for inspiration. Many manufacturers offer help through email or phone to answer your questions right away while ordering and installing. RTA cabinets are shipped to the customer in flat packages that cost far less than the bulky packages sent with fully-assembled cabinets. The packages contain everything the customers need to assemble their bathroom sink cabinets, except for a few common household tools.

Quick Tips
If you decide to install your cabinets by yourself, make sure you have at least one other person with you. This is to ensure your safety as well as the aesthetics of the end result. You can also hire a professional to install the cabinets if you wish.
We specialize in ready-to-assemble cabinets. Browse the RTA Cabinets catalogue for more information.