Customizing any kitchen is easy, it just takes a little creativity. Including pieces of furniture (or pieces that look like furniture) in the kitchen is on trend. You can get the look without ordering custom cabinets nor without breaking the bank with expensive reproduction furniture. You can easily make stock kitchen cabinets like furniture with the simple addition of furniture feet or furniture legs, trims, and other accents.
Add Legs to Cabinet for a Furniture Feel
There are a wide variety of styles and designs that you can use, and we stock a wide range of them under our unfinished accessories. In most cases you wouldn't want to do the entire kitchen with furniture legs, but you want to use them on cabinets or parts of the room that you want to be the focal point – like the sink or cook top. They are often used on the corners of islands or peninsulas to add an additional design touch where the ends might be sticking out.
Trim Turns Cabinets into Furniture
If you love the look of Victorian-era furniture and want that look for your kitchen, adding a little scalloped trim to the bottom of the cabinets will do the trick. You don't even have to replace your cabinets to get that furniture look. You can add trim to your existing cabinets. Stylize your design for hardly any work or money.
Some crown molding to the top of the cabinets also adds some flair that sets your kitchen cabinets apart. Kitchen cabinets like furniture have detail that goes beyond standard cabinets. It translates into the feel of the space and changes more than the way the kitchen looks.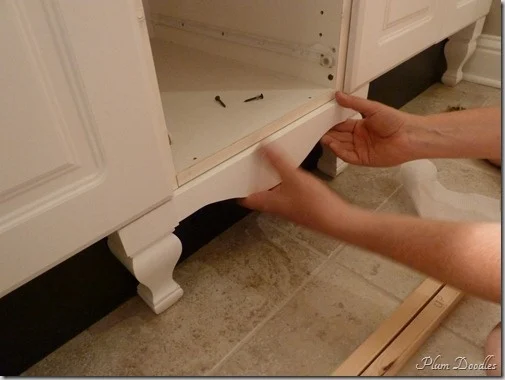 Accents for Kitchen Cabinets that Look Like Furniture
Consider some custom accents that take your kitchen up a notch. A wine rack or plate rack is simple to add and grounds your kitchen with that furniture feel. It might be a bit more involved to add these elements unless you are already in the middle of a renovation, but well worth the effort.
With very little effort or cost, you can add accents and trims that make all the difference. So if you are looking for an easy way to accent any cabinet line, consider adding decorative feet or furniture legs to your cabinets.