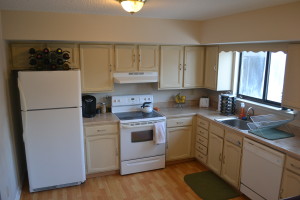 Let's face it.  Remodeling your kitchen is never going to be free, but you can find ways to reduce your costs.  One thing you do not want to do, though, is to skimp on quality or the look of the kitchen cabinets.  Kitchen cabinets come in many different forms and quality levels, but making sure you have that expensive look can be easier than you think.
The Past
Up until recently, there were not many options when choosing your kitchen.  Of course, there were countless styles, but by and large, unless you caught a huge deal or sale, there was a definite and linear correlation between price and quality/look.  The more you spent, the more expensive looking kitchen and quality cabinets you got.  You had a choice of either big-box stores or custom construction.  The first ready to assemble (RTA) cabinets began to be available, but they had not entered the market in force.  If you wanted that expensive look, you had to be prepared to pay a lot for it.
The Present
The old rules do not apply anymore.  The biggest point in consumers' favor is that RTA cabinets have come into their own, and in force.  With a more global economy and the advent of new technologies to keep production costs down, RTA cabinets are being produced that can meet or even exceed the quality and look of custom.  The internet makes for a great retail storefront, cutting out many costs, and the savings can be passed directly on to the consumer.  These are the reasons why we decided to start RTA Cabinet Store.
Now, when selecting your cabinets, you can look at high quality pictures of many different styles.  You have complete visual knowledge of what your cabinets will look like, something you do not even get with expensive custom cabinets.  RTA cabinets come in different quality levels, of course, but pretty much the only thing you need to do is find a reputable dealer with a reputation for quality.  The price will naturally be much lower than the big box stores, and your kitchen will have that expensive-looking style you desire, guaranteed.
The Process
After you have checked online for a top-level RTA cabinet dealer, you can then discuss with one of their experts (all of the best ones have a number of very knowledgeable people available to assist you) the particular style you like.  They are trained in helping match the right kitchen cabinets and accessories together, including things such as countertops, door hardware, etc., to get the perfect mix to give your kitchen the best look possible.  They will be your best resource in saving money while getting the best kitchen possible.
Looking Forward
If you are planning to remodel your kitchen, you should really look no further than RTA cabinets, especially if budget is a consideration.  Use the help staff; their whole purpose is to help you get what you want within your budget range.  You can also save loads of money by removing the old cabinets and installing the new ones yourself, further increasing the amount you can spend on your cabinets.