We absolutely love sharing amazing remodels like this one from our client Kevin Mahon, who wanted to update his kitchen to create a more inviting, warm, and open space.
Here is how Kevin went from cramped kitchen to the ideal entertainment space:
His main challenge was to take a lifeless, dull kitchen area and transform it into a welcoming and functional space to cook and entertain. Without the beautiful granite countertops, ambient hanging lamps, or Beaumont Collection Cabinetry, it was nearly impossible to cook freely in the kitchen, much less enjoy the company of family and friends.
With a supporting wall blocking free access, the kitchen was more like a closet. Kevin had to tiptoe around to grab a wok or even a ladle. He needed a wider and more luxurious space. He turned to the RTA Cabinet Store for help.
Kitchen construction is a quite an undertaking for many homeowners, but not when you use materials provided by the RTA Cabinet Store. Kevin was able to complete the entire remodel by himself—only hiring a contractor to put in an LVL Beam when he needed to knock down the supporting wall and to install the Bianco Antico granite.
Kevin's remodel results were absolutely spectacular and surpassed his goals of creating the kitchen he had always hoped for, and we wanted to share his story in hopes it as an inspiration for others. See the results below!
Overall Budget:
This entire project came to $13,000—an incredible deal for a complete kitchen transformation.
Style of Cabinets:
Kevin opted for the Beaumont cabinet line. The Beaumont Collection provides a rich, warm, chocolate stain color that matches any decor. It offers dovetailed under-mount full-extension soft-closing drawer glides and 6-way adjustable European style hinges as standard features.
Unique features or touches added:
Kevin added a spice rack, a shelf end unit, and the beautiful Bianco Antico granite to complete his vision. The RTA Cabinet Store team agrees that these additions give his new kitchen the perfect finishing touch!
Let RTA Cabinet Store help you with your next kitchen or bathroom makeover.
We have a variety of cabinets and vanities in an array of styles, sure to fit your specific tastes and design goals.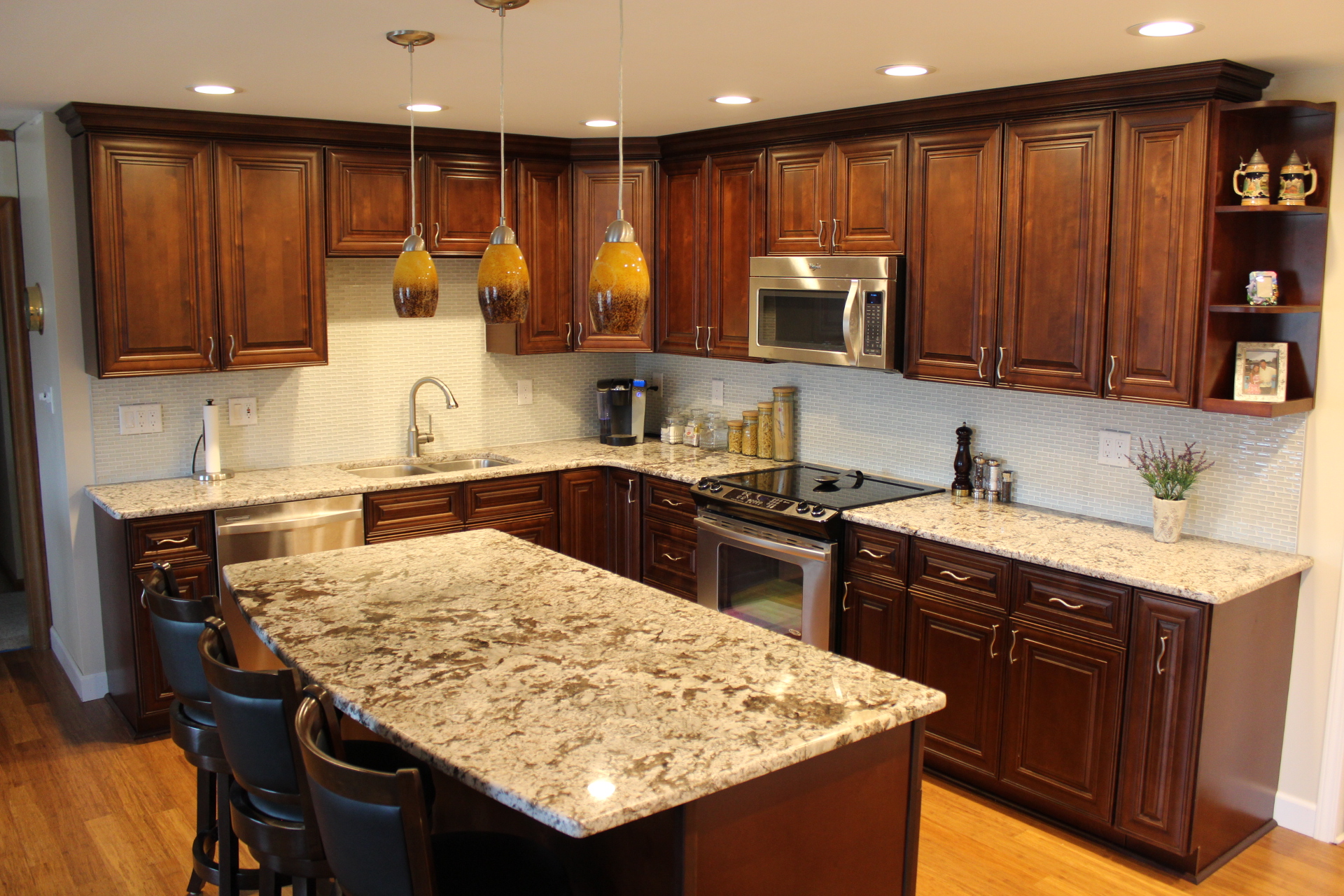 Give your kitchen a professional touch! Visit our design tool and our free design help to get started.