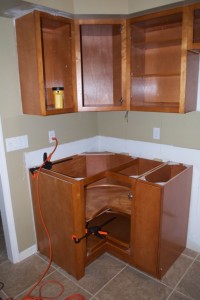 There are a lot of different materials that people use to make kitchen cabinets, from hardwood to plywood to stainless steel. One material RTA Cabinet Store never uses is particle board, and in fact, we recommend steering well clear of any cabinets that do.
What Is Particle Board?
Particle board is essentially sawdust, soaked in glue or resin, then pressed together into boards. Because the particles of wood used are fairly large, and spread randomly across a wide range of grain sizes, particle board tends to have a lot of inconsistencies. There can be voids full of nothing but air, pockets of tiny sawdust that never gets fully saturated with glue, and hard segments of just glue. You can see this for yourself just by looking at any cut end of particle board. You'll see the voids, and can probably pick it apart just with your fingers.
Because of all of its imperfections, particle board isn't very strong. Its voids and inconsistencies don't hold fasteners very well; screws pull it apart, stripping or pulling out altogether, just as easily as fingernails do. Worse, the spots that didn't get fully saturated with glue or resin are highly susceptible to water damage, and even simple changes in humidity over time can cause it to swell, contract and basically disintegrate over the years.
Needless to say, we don't use particle board. So what do we use?
Better Alternatives to Particle Board
At RTA Cabinet Store, we always use the best material available to fit the desired finish and price point. For almost all of our wood toned cabinet lines, this means genuine hardwood. For our painted lines, we often use medium- or high-density fiberboard. These are engineered wood products with carefully controlled grain sizes, thoroughly mixed with resin and then compressed into hard, reliable building materials. Often even heavier than solid wood, MDF and HDF provide smooth surfaces that take paint beautifully and help resist expansion cracking in the finish over time.
All of our cabinets use plywood for the structural elements that aren't typically visible. Plywood is real hardwood, sliced into very thin sheets, which are then rotated relative to each other, stacked up, and compressed together with resin. Plywood is warp-resistant, strong, sturdy, long-lasting, and holds fasteners even better than solid hardwood, making it the ideal material for cabinet box frames, shelves, and floors.
Want to learn more about kitchen cabinets, including common mistakes and pitfalls to watch out for in order to avoid getting ripped off? Check out our e-book, The Consumer's Guide to Buying Kitchen Cabinets for all that and more. Download it today to get a head start on your kitchen renovation project!