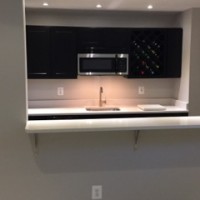 When most people think of a kitchen, they see in their minds a traditional room with cabinets wrapping the top and bottom of the walls, with a decent countertop on there, with probably a refrigerator and a few appliances thrown in there.  Well, they are right, but we have more things that we can do today than in yesteryear!  The advent of RTA cabinets has brought some pretty cool additions to the kitchen, making things that used to be possible only with custom cabinets available to anyone who has taken that positive leap to amazing looking, stable and cheaper cabinets: RTA.
What Is It?
A kitchen peninsula is similar to a kitchen island, in that it has a few more sides than normal open to the air.  The difference is that a kitchen peninsula is attached to the rest of the cabinetry, and not freestanding.  It must have three sides open to the air to be counted as a peninsula, although these sides do not need to be cabinets (though, Why not?, we ask),  RTA Cabinet Store has sold a lot of cabinet configurations over the years to make kitchen peninsulas.  Rarely, people have some complaint, and we encourage them to voice it so that we can work with them to help fix their problem, whatever that may be.  Overwhelmingly, though, we receive a lot of positive reviews and really enjoy getting the feedback!  Check out http://www.houzz.com/photos/query/rta-cabinet-store-peninsula to see some of the RTA Cabinet Store reviews we have gotten from our peninsula builds!
What A Kitchen Peninsula Can Do
Well, the most common usage for a kitchen peninsula is to cut a larger room in half, making part of it a kitchen, and the other part a dining room.  Normally, there will be a breakfast or serving bar on the peninsula itself.  Coming up with a creative design can work wonders, and you can have storage on both sides of the peninsula.  Check out the above reviews (with pictures!) and you will find literally thousands of kitchen peninsulas, all of which are unique.  We would be happy to help you come up with ideas for your own new kitchen peninsula, so get online, check out a style you like, and let's come up with a way for you to get that awesome new addition to your kitchen!