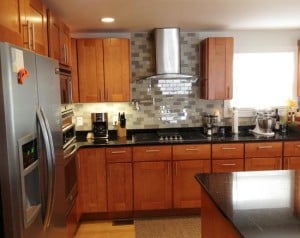 Kitchen cabinets are a big investment and you expect RTA cabinet longevity to be more than a decade. They aren't the kind of expense you want to incur every few years. The good news is that most cabinets will have no problem lasting a decade or more, but it depends on many factors. Don't be surprised if cabinets fall into disrepair if not taken care of properly.
Painted Dark Kitchen Cabinets Can Lower Longevity
Paint is a great way to add a splash of color to drab cabinets. If you have kitchen cabinets that are already in disrepair, then painting can give them new life. The biggest problem with painting cabinets is over time the paint can begin to chip and peel, long before the cabinets themselves will need replacement. Peeling and chipping paint can make a cabinet look older than it actually is and may lead you to consider replacing it early. Instead, stripping and repainting would be a better option.  While not technically causing a longevity issue, it can appear that there is an issue.
Type of Discount Kitchen Cabinet Can Impact Longevity
When you're searching for new kitchen cabinets, you're not only looking for how good they look, but also what they're made out of. You'll find that certain materials cost less than others, but just because it costs less doesn't mean it's a great deal. Many of the less expensive materials can't hold up to the wear and tear that solid wood or even plywood can. Materials such as pressboard will deteriorate and tear far sooner than sturdier materials, significantly reducing the longevity of cabinets. Solid wood cabinets are much hardier and won't come apart like pressboard because it's single-piece versus many small pieces glued together.
DIY Kitchen Cabinet Damage Can Dramatically Decrease Longevity
The kitchen is a place of extremes. You have the cold of the freezer and refrigerator and the heat of the oven. There's boiling liquid and frozen meats and exposure to these extremes may cause a decrease in the longevity of your cabinets. If there is water damage caused by a leaky sink, then it can cause your cabinets to rot or warp. This is especially true for cabinets made from low cost materials. Most cabinets have a layer of protection over them, such as urethane that is designed to keep stains out, but if the protective layer is damaged by falling pots and pans, etc., then it can leave the underlying surface open to damage.
Are your kitchen cabinets looking a little worse for wear? Check out our new design tool and get started on your journey to new kitchen cabinets.